Here's an excuse to give your creative mind a reason to get carried away in imagination and bring out some interesting stuff for us readers to read. Blogadda has started a contest - A Mystery Fiction Contest. Check out the following snip -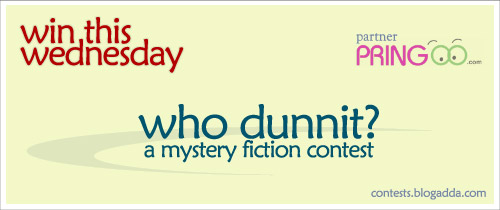 You have to guess the killer, there are a lot of hidden clues, some are obvious some are not, some are distractions, some are for real
so you have to get very smart to crack the puzzle. 
Ajay Nair, a blogadda member has written a mystery 'Reunion'. We have to play detective and crack the mystery. C'mon, play Sherlock Holmes and identify the Killer!
* New Look *
If you've noticed, I've changed my blog template. I am using the Template designer, a new feature Blogger have added for us to tweak the once rigid and simple blog platform. Check out here to find out more about Blogger Template Designer. And well, how do u find the new look ?